Tweet
Before the Alabama Crimson Tide faces Washington in the first game of the College Football Playoff Semifinals, college football's top 4 universities will also compete for donor support in the Playoff Giving Challenge. Whether or not Alabama takes home the Giving Challenge Championship is completely up to our great fans and supporters!
This challenge is based on participation so EVERY gift counts! When you make your gift during the Giving Challenge, you will not only contribute to our success in the competition, you will also impact the lives of our student-athletes by providing needed scholarship support.
Show your pride and belief in the Crimson Tide by making your gift between December 28 and December 31. Share this page with your friends and family to encourage all Bama faithful to make their gift during the challenge! Remember, your participation matters - we can't do it without you. Roll Tide!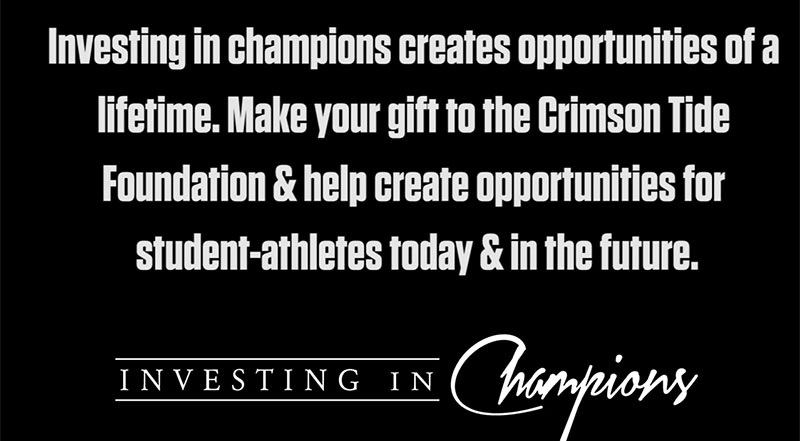 Student-athletes at the University of Alabama reflect on the opportunities they are most thankful for. Donors to the Crimson Tide Foundation create opportunities for student-athletes to receive their education, develop as leaders, create a network and experience personal growth each time they make a gift. Listen to our student-athletes as they describe how the support they have received has impacted them in meaningful, life-changing ways.
Results of the College Football Participants Giving Challenge
| School | Number of Gifts |
| --- | --- |
| Ohio State | 729 |
| Clemson | 481 |
| Alabama | 430 |
| Washington | 415 |