Alabama Athletics is committed to providing the highest quality game-day experience for everyone attending an event at Bryant-Denny Stadium. Every renovation or expansion of Bryant-Denny has provided additional opportunities for an enhanced game-day experience.
Bryant-Denny Stadium is one of the most iconic facilities on The University of Alabama campus and, as such, will be among the featured capital projects in The Crimson Standard.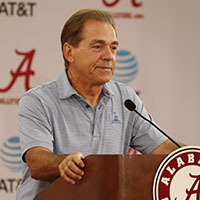 "To reinvest in the players and the programs here, to make Alabama's athletic programs continue to be great in the future is a sacrifice that we all need to make. We all want to have success, and we can't get complacent about what we've been able to accomplish in the past. We have to look forward to what we need to do in the future." -- Nick Saban
Enhancements to Bryant-Denny Stadium will include:
Renovation and expansion of multiple seating areas to include three new club areas and the addition of 3,826 new premium seats
The addition of Loge Boxes, new skyboxes on the east U1 level and west side Founders Suites, as well as a complete renovation of all existing skyboxes
A relocated press box
Improvements to all team areas including the locker room and tunnel
Renovated recruiting areas
Expanded concourses to allow for better traffic flow as all fans enter and exit the stadium
Renovated concession areas and main concourses to provide an improved game-day experience for fans at Bryant-Denny Stadium
Renderings are conceptual and subject to change. All projects are subject to approval of The University of Alabama Board of Trustees, presidential approval and fundraising success.
Premium Product Investment and Terms
Premium Product
Capital Gift
(payable for up to 5 years)
Annual TIDE PRIDE Commitment
Term (TIDE PRIDE)
Loge Box (4 seats)
$150,000
$16,000
5 years
Champions Club (per seat)
$10,000
$3,500
10 years
Terrace Club (per seat)
$10,000
$2,750
10 years
North Field Club (per pass)
---
$2,250
10 years
For availability and investment details related to Founders Suites and skyboxes, please contact us or call the Crimson Tide Foundation at 205-348-9727.